National Day Promotion:
Free upgrade to 128GB Wow! High Endurance card worth $100.
Limited period only. Details of promotion available here >
Features
BlackVue DR900X-2CH - Redefining the dashcam
4K UHD Dual-Channel Cloud Dashcam


Front camera with 4K Ultra High Definition (3840 x 2160 @30FPS)
Rear camera with Full HD (1920 x1080 @30FPS)
8M Pixels front image sensor (4 times more pixels than Full HD)
162º wide view angle (front) and 139º (rear)
High Dynamic Range (HDR) Night Vision
H.265/HEVC (High Efficiency Video Coding)
Dual-band WiFi (2.4GHz/ 5.0GHz)
Cloud service compatible
Adaptive Format Free
Scheduled Reboot
Support up to 256GB microSD card
Support Parking Mode with Impact and Motion Detections, Time Lapse and Region-based Motion Detections
Support optional LTE module for Cloud Connectivity
Support Native Parking Mode (hardwiring cable included)
Learn more from the Product Page here.
Video
What's included?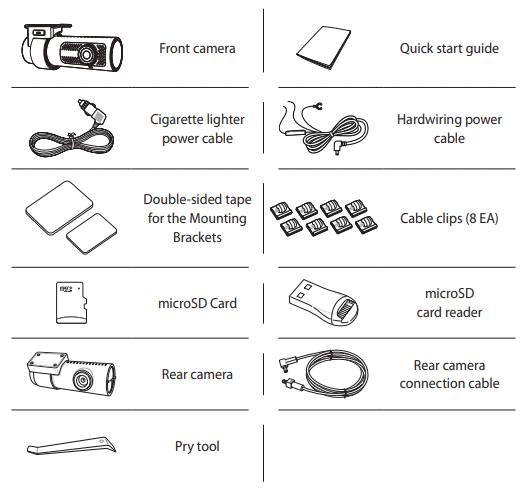 Front Camera
Rear Camera
Rear camera connection cable (6m / 19.68ft)
microSD card
Power cord (Cigar Jack)
Hardwiring cable (3-wire type)
microSD card reader
Quick start guide
Cable clips (8EA)
Spare mount sticky pads
Pry tool
Technical Specs
Specifications
Model Name
DR900X-2CH
Type
2 Channels (front and rear camera)
Highlights
4K UHD (Front) + Full HD (Rear), HEVC (H.265), 2.4-5GHz Wi-Fi, Cloud, External LTE Module (Optional)
Product Dimensions
Front: W 118.5 mm x H 36 mm / 106 g
Rear: W 67.4 mm x H 25 mm / 25 g
Rear Camera Connection
Coaxial cable
Memory support
MicroSD card up to 256GB
Recording Mode
• Normal,
• Event (Impact Detection / Speed Limit / Manual),
• Parking Mode (Impact + Region-based Motion Detection, Time Lapse + Events)
Parking Mode
Yes (with 3-wire hardwiring cable included)
Parking Mode Event Voice Notifications
Yes
Imaging Sensor
Front: CMOS Sensor (Approx. 8MP)
Rear: Sony STARVIS™ CMOS Sensor (Approx. 2.1MP)
Viewing Angle
Front: Diagonal 162°, Horizontal 136°, Vertical 77°
Rear: Diagonal 139°, Horizontal 116°, Vertical 61°
Resolution Frame Rate
Front: 4K UHD (3840 x 2140) @30fps
Rear: Full HD (1920×1080) @30fps
* Frame rate may vary during Wi-Fi streaming.
Video Codec
H.265 (HEVC) , H.264 (AVC)
Image Quality and Bitrate Front/Rear
Highest (Extreme): 25+10 Mbps
Highest: 12+10 Mbps
High: 10+8 Mbps
Normal: 8+6 Mbps
Format Free
Yes (Adaptive)
Event File Overwrite Protection
Yes (up to 50)
SD Card Failure Alert
Yes
Scheduled Reboot
Yes
Video File Extension
MP4
WiFi
Built-in [802.11n (2.4~2.4835 GHz)]
Cloud Compatible
Yes
GPS
Built-in (Dual Band: GPS, GLONASS)
Microphone
Buit-in
Speaker
Built-in
Impact Sensor
3-Axis Acceleration Sensor
LED Indicators
Front: Recording LED, GPS LED, LTE/Wi-Fi LED, Front Security LED, Proximity Sensing indicator LED
Rear: Rear Security LED
Button
Button: Wi-Fi ON/OFF (Tap)
Proximity sensor: Mic ON/OFF / Trigger Manual Recording / OFF (configurable)
Operation Temperature
-20℃ – 70℃
Storage Temperature
-20℃ – 90℃
High Temp Cut Off
Approx. 75℃
Backup Battery
Built-in supercapacitor
Input Power
DC 12V – 24V
Power Consumption Hour
4.4W (Parking Mode when GPS Off and WiFi On)
3.9 W (Parking Mode when GPS and Wi-Fi are Off)
* Actual power consumption may vary depending on use conditions and environment.
Certifications
Front: FCC, CE, RoHS, Telec, WEEE, IC
Rear: FCC, CE, RoHS, WEEE
Software
BlackVue Viewer
* Windows XP or higher and Mac Yosemite OS X (10.10) or higher
Application
BlackVue Application (Android 4.4.2 or higher, iOS 9.0 or higher)
LTE
External via Connectivity Module CM100LTE (optional)
---
Recording Time
Model
Memory Capacity
Image Quality
Resolution (Front + Rear)
DR900X-2CH
4K UHD @ 30 fps (Extreme)
+ Full HD @ 30fps
4K UHD @ 30 fps
+ Full HD @ 30fps
Full HD @ 60 fps
+ Full HD @ 30fps
Full HD @ 30 fps
+ Full HD @ 30fps
16GB
Highest (Extreme)
55 MIN
x
x
x
Highest
x
1 HR 20 MIN
1 HR 20 MIN
1 HR 20 MIN
High
x
1 HR 40 MIN
1 HR 40 MIN
1 HR 40 MIN
Normal
x
2 HR 10 MIN
2 HR 10 MIN
2 HR 10 MIN
32GB
Highest (Extreme)
1 HR 50 MIN
x
x
x
Highest
x
2 HR 40 MIN
2 HR 40 MIN
2 HR 40 MIN
High
x
3 HR 20 MIN
3 HR 20 MIN
3 HR 20 MIN
Normal
x
4 HR 20 MIN
4 HR 20 MIN
4 HR 20 MIN
64GB
Highest (Extreme)
3 HR 40 MIN
x
x
x
Highest
x
5 HR 20 MIN
5 HR 20 MIN
5 HR 20 MIN
High
x
6 HR 40 MIN
6 HR 40 MIN
6 HR 40 MIN
Normal
x
8 HR 40 MIN
8 HR 40 MIN
8 HR 40 MIN
128GB
Highest (Extreme)
7 HR 20 MIN
x
x
x
Highest
x
10 HR 40 MIN
10 HR 40 MIN
10 HR 40 MIN
High
x
13 HR 20 MIN
13 HR 20 MIN
13 HR 20 MIN
Normal
x
17 HR 20 MIN
17 HR 20 MIN
17 HR 20 MIN
256GB
Highest (Extreme)
14 HR 40 MIN
x
x
x
Highest
x
21 HR 20 MIN
21 HR 20 MIN
21 HR 20 MIN
High
x
26 HR 40 MIN
26 HR 40 MIN
26 HR 40 MIN
Normal
x
34 HR 40MIN
34 HR 40MIN
34 HR 40MIN
Bitrate (Mbps)
Front + Rear
Highest (Extreme)
25 + 10
x
x
x
Highest
x
12 + 10
12 + 10
12 + 10
High
x
10 + 8
10 + 8
10 + 8
Normal
x
8 + 6
8 + 6
8 + 6
Package Info
WEIGHT 1 kg
DIMENSIONS: 13 x 17.5 x 8.5cm
MEMORY CAPACITY 32GB
Customer comments
| Author/Date | Rating | Comment |
| --- | --- | --- |