Features
BlackVue Dual FULL HD Cloud Dashcam records up to 60fps.
BlackVue DR750S-2CH's front and rear cameras feature Full HD Sony STARVIS™ image sensors for best image quality under any light. Also included are GPS logger, built-in Wi-Fi, Cloud connectivity, impact and motion detection.
Front camera with Full HD (1920 x1080 @60FPS)
Rear camera with Full HD (1920 x 1080 @30FPS)
2M Pixels SONY Starvis image sensor with Night Vision
139º wide view angle
WiFi built-in
Cloud service compatible
Adaptive Format Free
Scheduled Reboot
Support up to 256GB microSD card
Support Parking Mode with Impact and Motion Detections, Time Lapse and Region-based Motion Detections.
Learn more about the product here.


Video
What's Included?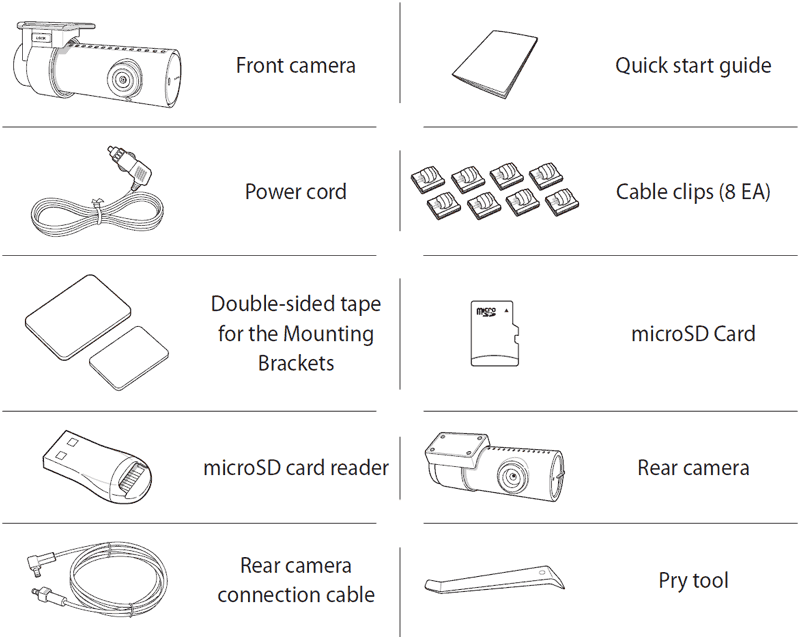 Front camera
Rear camera
Power cord
microSD Card
microSD Card reader
Rear camera connection cable
Double-sided tape for the Mounting Brackets
Cable clips(8EA)
Pry tool
Quick start guide
Technical Specs
Specifications
Model Name
DR750S-2CH
Channel
2 Channels
Color/Size/Weight
Front: Black / Width 118.5 mm x Height 36 mm / 90 g
Rear: Black / Width 67.4 mm x Height 25 mm / 25 g
Memory
microSD Card (32 GB/64 GB/128 GB/256 GB)
Recording Mode
Normal recording, Event recording (when impact is detected in normal and parking mode), Manual recording and Parking recording (when motion is detected)
*For Parking mode recording, a Parking Mode Battery Pack (Cellink Battery Pack) or a Parking Mode Hardwiring Kit (Power Magic Pro) is required.
Camera
Front: STARVIS™ CMOS Sensor (Approx. 2.1 M Pixel)
Rear: STARVIS™ CMOS Sensor (Approx. 2.1 M Pixel)
Viewing Angle
Front: Diagonal 139°, Horizontal 116°, Vertical 61°
Rear: Diagonal 139°, Horizontal 116°, Vertical 61°
Resolution/Frame Rate
Full HD (1920×1080) @60fps – Full HD (1920×1080) @30fps (Sports)
Full HD (1920×1080) @30fps – Full HD (1920×1080) @30fps
Full HD (1920×1080) @30fps – HD (1280×720) @30fps
HD (1280×720) @30fps – HD (1280×720) @30fps
*Frame rate may vary during Wi-Fi streaming.
Image Quality
Highest
High
Normal
Compression Codec
MP4
Wi-Fi
Built-in (802.11n (2.4 − 2.4835 GHz))
GPS
Built-in
Microphone
Built-in
Speaker
Built-in
LED
Front: Recording LED, GPS LED, Wi-Fi LED, Front Security LED
Rear: Rear Security LED
Sensor
3-axis acceleration sensor
Backup Battery
Built-in super capacitor
Button
Wi-Fi / Format button:
*Press once to turn on/off Wi-Fi.
*Press and hold for 5 seconds and once voice commands start, release the button. Then press once again to reset the Wi-Fi SSID and password or press and hold for 5 seconds to format the microSD card.
Proximity sensor:
Touching the proximity sensor toggles audio recording ON/OFF or triggers manual recording depending on the firmware settings.
Input Power
DC 12V – 24V (DC Plug:(-)—C—(+) (Ø3.5 x Ø1.35), MAX 1A/12V)
Current Consumption
Avg. 350mA (4.2W at 12V, when GPS and Wi-Fi are ON)
Avg. 300mA (3.6W at 12V, when GPS and Wi-Fi are OFF)
* Actual power consumption may vary depending on use conditions and
environment.
Operating Temperature.
-20℃ – 70℃ (-4°F – 158°F )
Storage Temperature
-20℃ – 70℃ (-4°F – 158°F )
High Temperature Cut-off
Approx. 80 °C (176 °F)
Certifications
Front: FCC, CE, RoHS, Telec, WEEE
Rear: FCC, CE, RoHS, WEEE
Software
– BlackVue Viewer for Windows / Mac OS
* Windows XP or higher / Mac OS X
10.10 (Yosemite) or higher
– BlackVue App (Android 4.2 or higher, iOS 9.0 or higher)
Others
Adaptive Format-Free File Management System
---
Recording Time
Model
Memory Capacity
Image Quality
Resolution
DR750S-2CH
Full HD @60fps
+ Full HD @30fps
Full HD @30fps
+ Full HD @30fps
Full HD @30fps
+ HD @30fps
HD @30fps
+ HD @30fps
16GB
Extreme
55 MIN
x
x
x
Sports
1 HR 25 MIN
x
x
x
Highest
x
1 HR 25 MIN
1 HR 35 MIN
2 HR
High
x
1 HR 50 MIN
2 HR
2 HR 40 MIN
Normal
x
2 HR 20 MIN
2 HR 40 MIN
4 HR
32GB
Extreme
1 HR 50 MIN
x
x
x
Sports
2 HR 50 MIN
x
x
x
Highest
x
2 HR 50 MIN
3 HR 10 MIN
4 HR
High
x
3 HR 40 MIN
4 HR
5 HR 20 MIN
Normal
x
4 HR 40 MIN
5 HR 20 MIN
8 HR
64GB
Extreme
3 HR 40 MIN
x
x
x
Sports
5 HR 40 MIN
x
x
x
Highest
x
5 HR 40 MIN
6 HR 20 MIN
8 HR
High
x
7 HR 20 MIN
8 HR
10 HR 40 MIN
Normal
x
9 HR 20 MIN
10 HR 40 MIN
16 HR
128GB
Extreme
7 HR 20 MIN
x
x
x
Sports
11 HR 20 MIN
x
x
x
Highest
x
11 HR 20 MIN
12 HR 40 MIN
16 HR
High
x
15 HR 40 MIN
16 HR
21 HR 20 MIN
Normal
x
18 HR 40 MIN
21 HR 20 MIN
32 HR
256GB
Extreme
14 HR 40 MIN
x
x
x
Sports
22 HR 40 MIN
x
x
x
Highest
x
22 HR 40 MIN
25 HR 20 MIN
32 HR
High
x
31 HR 20 MIN
32 HR
42 HR 40 MIN
Normal
x
37 HR 20 MIN
42 HR 40 MIN
64 HR
Bitrate (Mbps)
Front + Rear
Extreme
25 + 10
x
x
x
Sports
12 + 10
x
x
x
Highest
x
12 + 10
12 + 8
8 + 8
High
x
10 + 8
10 + 6
6 + 6
Normal
x
8 + 6
8 + 4
4 + 4
Package Info
WEIGHT 1 kg


DIMENSIONS 13 x 17.5 x 8.5cm


MEMORY CAPACITY 32GB
Customer comments
| Author/Date | Rating | Comment |
| --- | --- | --- |