Features
The Perfect Dashcam for Trucks and Heavy Vehicles
BlackVue DR750S-2CH TRUCK, Full HD Cloud Dashcam with External Waterproof Infrared Rear Camera. Ideal for trucks and commercial vehicles.
The external waterproof rear cam with embedded IR lights and up to 20m coaxial cable is ideal for most large vehicles.Catch detailed footage of the front surroundings of your vehicle at 1080p Full HD 60FPS and rear at 1080p Full HD 30FPS.
The front camera has a 139° wide angle of view and a cutting-edge Sony STARVIS CMOS sensor and the rear camera has a 120° angle of view and 2.1MP CMOS sensor augmented by 6 IR LEDs for clarity in total darkness.
Front camera with Full HD (1920 x1080 @60FPS)
Rear camera with Full HD (1920 x 1080 @30FPS)
2M Pixels SONY Starvis image sensor with Night Vision
139º wide view angle for front and 120º for rear camera
External Waterproof IR rear camera
WiFi built-in
Cloud service compatible
Adaptive Format Free
Scheduled Reboot
Support up to 256GB microSD card
Support Parking Mode with Impact and Motion Detections, Time Lapse and Region-based Motion Detections.



Video
What's Included?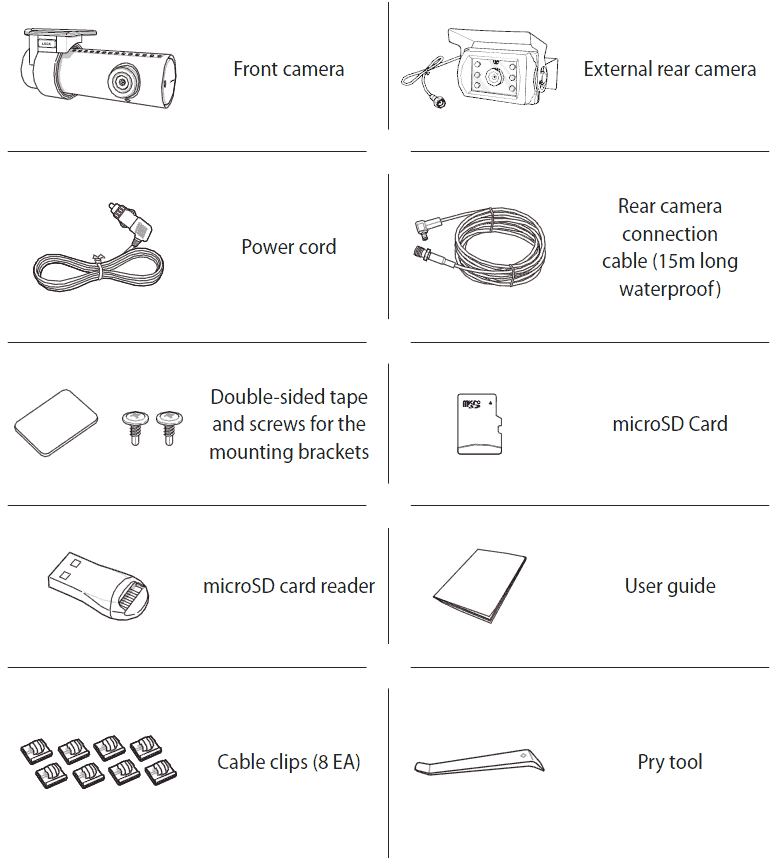 Front Camera
External Rear Camera
Power Cord
Cable Clips(8EA)
Double-sided Tape and Screws for the Mounting Bracket
microSD Card
microSD Card Reader
Rear Camera Connection Cable(15m waterproof)
User Guide
Technical Specs
Specifications
Model Name
DR750S-2CH TRUCK
Color/Size/Weight
Front: Black / Width 118.5 mm x Height 36 mm / 90g
Rear: Black / Width 70.0 mm x Height 44.4 mm / 180g
Memory
microSD Card (32GB/ 64GB/ 128GB/ 256GB)
Recording Modes
Normal recording, Event recording (when impact is detected in normal and parking mode), Manual recording and Parking recording (when motion is detected)

* For Parking mode recording, a Parking Mode Battery Pack (Cellink Battery Pack) or a Parking Mode Hardwiring Kit (Power Magic Pro) is required.
Camera
Front: STARVIS™ CMOS Sensor (Approx. 2.1 M Pixel)
Rear: CMOS Sensor (Approx. 2.1 megapixels)
Viewing Angle
Front: Diagonal 139°, Horizontal 116°, Vertical 61°
Rear: Diagonal 120°, Horizontal 100°, Vertical 60°
Resolution/




Frame Rate

Full HD (1920×1080) @60fps – Full HD (1920×1080) @30fps

Full HD (1920×1080) @30fps – Full HD (1920×1080) @30fps

Full HD (1920×1080) @30fps – HD (1280×720) @30fps

HD (1280×720) @30fps – HD (1280×720) @30fps

*Frame rate may vary during Wi-Fi direct streaming.

Image Quality
Highest, High, Normal
Video Compression Mode
MP4
Wi-Fi
Built-in (802.11n(2.4~2.4835GHz))
GPS
Built-in
Microphone
Built-in
Speaker (Voice Guidance)
Built-in
LED Indicators
Front camera: Recording LED, GPS LED, Wi-Fi LED, Front Security LED
Rear camera: Security LED
Wavelength of Interior camera IR light
940 nm (6 Infrared (IR) Lights)
Button
Wi-Fi / Format button:

Press once to turn on/off Wi-Fi.
Press and hold for 5 seconds and once voice commands start, release the button. Then press once again to reset the Wi-Fi SSID and password or press and hold for 5 seconds to format the microSD card.

Proximity sensor:

Touching the proximity sensor turns on/off audio recording or triggers manual recording depending on the firmware settings.

Sensor
3-Axis Acceleration Sensor
Backup Battery
Built-in super capacitor
Input Power
DC 12 V − 24 V (DC Plug: (Ø3.5 x Ø1.35), MAX 1 A/12 V)
Power Consumption
Avg. 370 mAh (4.44 Wh at 12 V, when GPS and Wi-Fi is On)
Avg. 310 mAh (3.72 Wh at 12 V, when GPS and Wi-Fi is Off)

* Approx. 60mAh increase in current when IR LEDs are ON.
* Actual power consumption may vary depending on use conditions and environment.
Operation Temperature
-20 °C − 70 °C (-4 °F − 158 °F)
Storage Temperature
-20 °C − 70 °C (-4 °F − 158 °F )
High Temperature Cut-Off
Approx. 80 °C (176 °F)
Certifications
FCC, CE, RoHS, Telec, WEEE, IC
Software
BlackVue Viewer
* Windows XP or higher and Mac Yosemite OS X (10.10) or higher
Application
BlackVue Application (Android 4.4.2 or higher, iOS 9.0 or higher)
Others
Adaptive Format Free File Management System
* STARVIS is a trademark of Sony Corporation.
Recording Time
Model
Memory Capacity
Image Quality
Resolution
DR750S-2CH Truck
Full HD @60fps
+ Full HD @30fps
Full HD @30fps
+ Full HD @30fps
Full HD @30fps
+ HD @30fps
HD @30fps
+ HD @30fps
16GB
Extreme
55 MIN
x
x
x
Sports
1 HR 25 MIN
x
x
x
Highest
x
1 HR 25 MIN
1 HR 35 MIN
2 HR
High
x
1 HR 50 MIN
2 HR
2 HR 40 MIN
Normal
x
2 HR 20 MIN
2 HR 40 MIN
4 HR
32GB
Extreme
1 HR 50 MIN
x
x
x
Sports
2 HR 50 MIN
x
x
x
Highest
x
2 HR 50 MIN
3 HR 10 MIN
4 HR
High
x
3 HR 40 MIN
4 HR
5 HR 20 MIN
Normal
x
4 HR 40 MIN
5 HR 20 MIN
8 HR
64GB
Extreme
3 HR 40 MIN
x
x
x
Sports
5 HR 40 MIN
x
x
x
Highest
x
5 HR 40 MIN
6 HR 20 MIN
8 HR
High
x
7 HR 20 MIN
8 HR
10 HR 40 MIN
Normal
x
9 HR 20 MIN
10 HR 40 MIN
16 HR
128GB
Extreme
7 HR 20 MIN
x
x
x
Sports
11 HR 20 MIN
x
x
x
Highest
x
11 HR 20 MIN
12 HR 40 MIN
16 HR
High
x
15 HR 40 MIN
16 HR
21 HR 20 MIN
Normal
x
18 HR 40 MIN
21 HR 20 MIN
32 HR
256GB
Extreme
14 HR 40 MIN
x
x
x
Sports
22 HR 40 MIN
x
x
x
Highest
x
22 HR 40 MIN
25 HR 20 MIN
32 HR
High
x
31 HR 20 MIN
32 HR
42 HR 40 MIN
Normal
x
37 HR 20 MIN
42 HR 40 MIN
64 HR
Bitrate (Mbps)
Front + Rear
Extreme
25 + 10
x
x
x
Sports
12 + 10
x
x
x
Highest
x
12 + 10
12 + 8
8 + 8
High
x
10 + 8
10 + 6
6 + 6
Normal
x
8 + 6
8 + 4
4 + 4
Package Info
WEIGHT 1 kg


DIMENSIONS 20.5 x 15 x 11 cm


MEMORY CAPACITY 32GB
Customer comments
| Author/Date | Rating | Comment |
| --- | --- | --- |