FEATURES
Mobile WiFi Hotspot
Providing seamlessly mobile hot spot in your car by connecting to the 4G/ LTE phone network. Compatible for BlackVue Cloud dashcams and other gadgets that requires internet connectivity while on the go.
How does it works?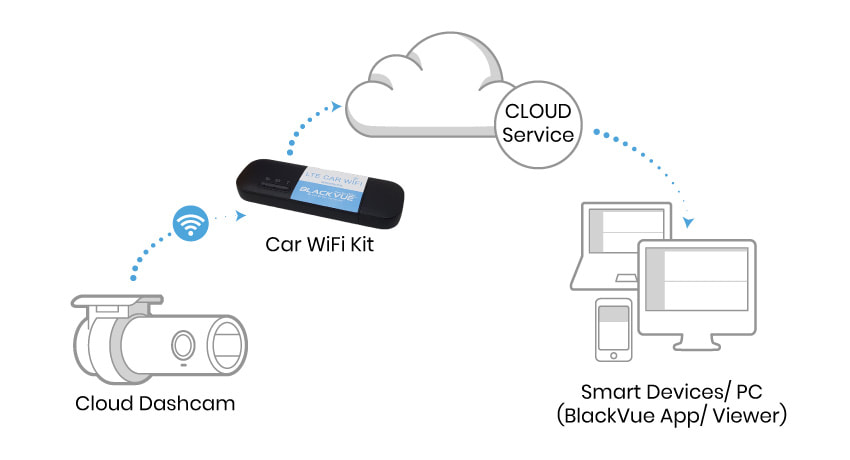 Cloud dashcam is connected to the Car WiFi Kit through the WiFi wireless connection.
Car WIFi kit requires SIM card with active data subscription to enable BlackVue cloud dashcam to be connected to the cloud service.Â
Battery-less with automatic power ON upon supply of power which can be hard-wired to your car through option of Power Magic Pro or Cellink battery or just ignition power.
Tips: If you are using Cellink NEO 8+, it comes with USB power outlet. You can use the Car WiFi Kit TYPE 2 to directly connect the USB power cable for the power.
Compatibility:
TYPE 1:
• Any Cellink Battery
• Power Magic Pro
• 12/ 24V DC Power Supply
TYPE 2:
• Cellink NEO 8+ (with USB power outlet)
• 5V DC Power Supply
TECHNICAL SPECS
Product
Car WiFi Kit
Colour / Size / Weight
Black / Width 30mm x Height 94mm x Depth 14mm / ~40g
Form
USB Stick
Communication System
LTE / DC-HSPA+ / HSPA+ / HSPA / UMTS / EDGE / GPRS / GSM
Speed
FDD LTE Cat4: 150 / 50 Mbps @20 M BW
HSPA+ 42 / 5.76, 21 / 5.76 Mbps
HSPA: 14 / 5.76, 7.2 / 5.76 Mbps
Receive Diversity
All the LTE and 3G bands
WiFi Protocol
Content Start
IEEE 802.11b/g/n
WiFi Connection Number
Up to 10 simultaneous users / devices
Operating Voltage (Type 1)
Operating Voltage (Type 2)
12/24V DC
5V DC
SIM Card Type
Standard Normal | 15 x 25mm
Warranty:
12 months manufacturer's warranty
WHAT'S INCLUDED?
TYPE 1:
1) Mobile Router x 1
2) Power Supply Kit x 1
TYPE 2:
1) Mobile Router x 1
2) USB Extension Power Cable x 1
PACKAGE INFO
WEIGHT: 0.3 kg
DIMENSIONS: 21 x 15 x 14 cm
Customer comments
| Author/Date | Rating | Comment |
| --- | --- | --- |